The legal limit where I live is 3 dogs. I considered my age and the average life span of a dachshund and decided that I could treat myself to one puppy. The pup and I would become senior citizens together. I really wanted a standard wire-haired dachshund. I had fostered a mini wire and loved their personalities. I had had a standard, black and tan smooth dachshund when I was a child. Standards were the norm back then (in the dark ages, lol) whereas minis are more common these days. A combination of the coat and size seemed perfect. I started to research good breeders of wire standards.
Well, "man proposes ........".
Along came Pogo. I got an email from a rescue friend in Quebec that there was a mini teckel who on death row at the local SPCA. My rescue accepted him into our adoption program and I agreed to be his foster mom. Another member of our rescue come out to meet the transport just to see what kind of a dachshund a "teckel" was. Dachshunds were newer to this rescue and they were facinated with the variety of dachshund colours and coats and sizes. Little did they know that teckel is just the European name for a dachshund.
When the transport arrived, inside the plastic crate was this scared and shivering little black and tan, silver dapple doxie. He had been scheduled for euthanasia due to his "skin condition" and aggression. (The shelter manager at the SPCA realized that Pogo was not aggressive but rather, just scared out of his mind. He had been in an apartment all of his life, never going outside until he was brought to the shelter along with a 16 month old doxie. The owners were moving and the dogs were not going along on the move. The younger doxie was deemed adoptable, but not little Pogo). Some thought Pogo's baldness was due to a food allergy; some of the transporters thought he had mange. I took one look at him and knew exactly what we were dealing with. Poor Pogo has Dachshund Pattern Baldness. This phenomenon is found in smooth dachshunds particularly. Due to his dapple genes, Pogo's one blue eye is a bit misformed as well. (Most dapples have one dark eye and one blue eye.)
You can see his Dachshund Pattern Baldness here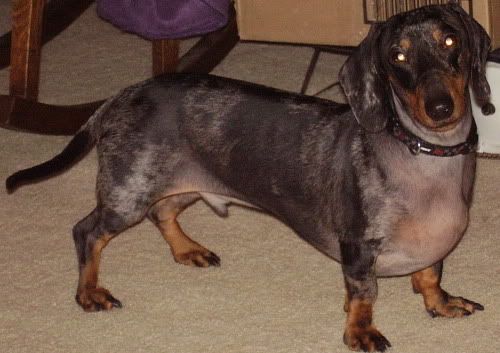 Pogo really was to be a foster and was listed on the rescue's website of available dogs.
Valentin had other plans.
On one hand, adopting Heidi had been a mistake. Having a buddy did not bring back the confidence that Valentin had developed around my golden retriever. With her handicap, Heidi was just one more person that scared Valentin felt he had to protect.
Valentin was thrilled with Pogo. I had fostered several other dachshunds and Valentin did not react to them as he did to Pogo. Within a few days, Valentin started to bond with Pogo. Valentin became more confident as he grew to trust Pogo to help him with the duties of being the "men" of the house. They raced and wrestled, played and slept together. They truly became brothers as you can see here. Those are Valentin's hind legs and tail wrapped around Pogo's shoulders in typical "dachshund pile" fashion.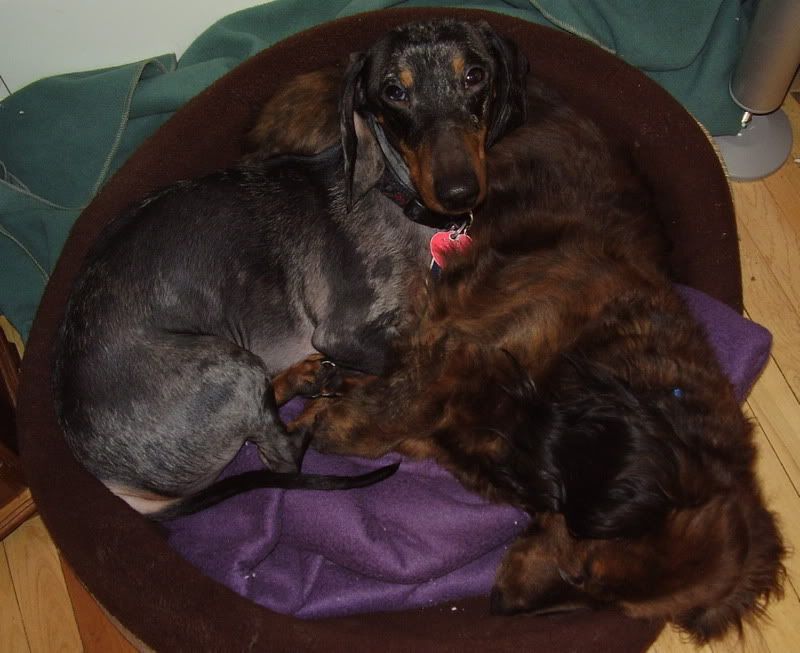 I maintain that I did not fail Foster 101, but rather, Valentin failed Foster Brother 101.
That is my story and I am sticking to it.