Within two weeks of losing Champ, I had to take an extended business trip back to the company's head office. Valentin and I would end up living in an hotel room for 4 months (blessedly, a pet friendly hotel). I think being away from our home, the familiar surroundings and Champ's scent made it easier for Valentin to deal with his buddy's absence, but I could see that he was lonely and needed another friend.
I searched the DRNA (Dachshund Rescue of North America,
http://www.drna.org/
) website, looking at the furkids who had been waiting the longest for their forever homes and fell in love with Miss Heidi Ho Ho. There was something about her picture on the internet that kept drawing me back to her. The fact that she was a "special needs" girl did not deter me. Due to my working hours, I did not feel comfortable taking on a dog that needed expressing, but Heidi was incontinent and diapers easily handled that.
Heidi had been found by the side of a country, dirt road. Although it was early December in South Carolina, the people who found her kept her outside in a box on their front porch for a few days, in case someone passing by recognized her. She then was turned into the local kill shelter as a stray.
When no one claimed her after 7 days, she was scheduled to be killed. You see, Heidi was found already paralized. We estimate her injuries were 2 years old at that point and she had wear marks on her feet that she had previously been in a cart. YOU figure out how a paralized dog ran away from home. Heidi`s age was estimated at 7 to 9 yrs old at that time.
Blessedly, a wonderful lady named Mardy realized how special Heidi was, and stepped forward to become Heidi's foster mom. Mardy nursed Heidi back to health (she was very thin, had a UTI, her legs and feet were very scraped up from dragging herself over the rough ground). Heidi hated being in that cage at the shelter, her nose was bloodied from banging it against the cage bars. Here is a picture of her poor little feet when she came into rescue.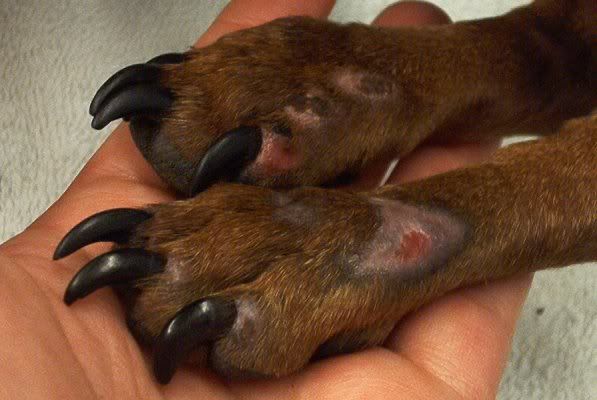 Mardy and I talked several times about Heidi's needs and how I would look after her, working and being single. In theory, on the phone, it was all good.
After being approved, volunteers helped to transport Heidi from South Carolina to the Canadian border at Niagara Falls. It was a 2 day car ride for my girl, she loved every minute of it and charmed each of her transporters. Heidi is a real trooper. I will confess to panic as the transport pulled away, leaving me holding Heidi. "What had I gotten myself into?" "How could I possibly care for her?" I wasn't even sure how to put her into her cart, let alone change diapers, etc. The first 5 or 6 weeks I guarded the last diaper that Mardy had sent. Each new diaper was carefully measured against the sample, so that I would get the hole for her tail in exactly the right place. With time, I did relax. Heidi was very patient with me. Today, I can free-hand cut the tail holes and change her diapers with my eyes closed.
We were in the hotel room for another month, then 2 months with my sister while I had knee surgery. Heidi did not actually settle in to her new home until 3 months after she became a Canadian. She took it all in stride. Heidi reigns over whatever situation she finds herself in.
Heidi was with Mardy for about 6 months before I adopted her. Being a foster mom myself, I know how hard it was for her to let Heidi go so far away, knowing that she would most likely never see Heidi again. We have stayed in touch for these past 2.5 years and 14 months after the adoption, Heidi and Mardy got to meet again in Virginia, at the Mid-Atlantic Doxie Phest. It was a great reunion, Heidi obviously remembered Mardy and I got to thank Mardy in person for the wonderful gift of Miss Heidi Ho Ho.
Here is Heidi in her newest cart. This was taken at one of Heidi's public education presentations. We teach children the proper way to meet a strange animal and that having "special needs" does not mean being different or excluded from day to day life.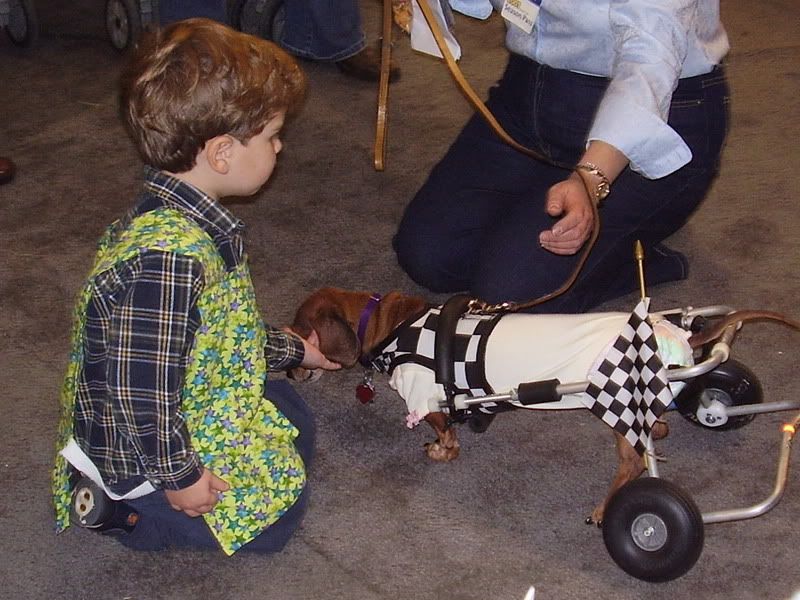 This was the first day with her new brother, Valentin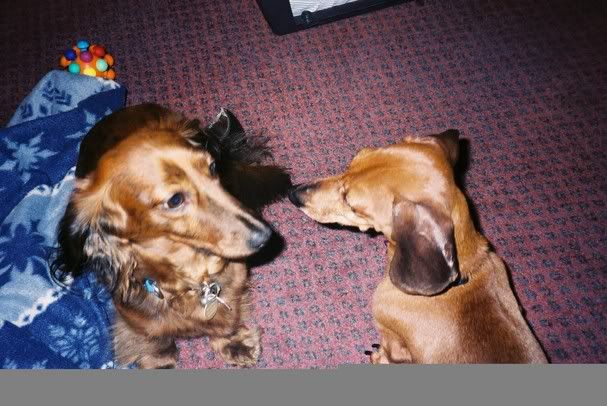 Here they are today, as close as if they have been together all their lives.