First came Valentin. He is my "middle child" in age, but the first to be adopted. When a rescue foster home adopts their foster, we usually say that they "failed Fostering 101". Well, in Valentin's case, I managed to fail "Transporting 101".
I was living about 350 miles away from my family and was back home for a long weekend. Valentin had been adopted in the area, but his adopters could no longer keep him and he needed to be returned to his home rescue, run by a friend of mine. I had agreed to pick up Valentin while visiting family and return him to the rescue after the long weekend . At that time, I had a golden retriever; I had had goldens for 30 years and was heavily involved with my local golden retriever rescue. My childhood, standard dachshund was a dim memory. Just to add to the weekend, I had also transported a shepherd puppy and chinchilla (yes, chinchilla, rescued from a fur farm) to waiting adopters. My poor family never knew what critters I might be bringing along with me.
Valentin came into rescue at the age of 18 months. Sadly, he had not experienced any human kindness in those first 18 months. He had learned early in life that people hurt him, and he responded accordingly.
He barked at me when I went to retrieve him. In my naivety, I told him to stop barking, and just picked him up. I did not understand at the time, the shocked looks, as Valentin did as he was told and allowed me to carry him out to my van. My golden was in the van and Valentin immediately took comfort with this big "body guard". From that moment on, Champ and Valentin were buddies and Valentin accepted and loved me almost as quickly. By the time we had returned home on the Monday, he was "mine".
Valentin will be 6 this coming February and he still has fear aggression issues with people. We are working on it, he may always be a "special needs kid" in this area. I can do anything with him and he gives kisses to the ladies at his doggie day care; so we know he can progress, the question will be, how much of his first 18 months of abuse will never quite leave him. We have a wonderful behaviourist to help us expand Valentin's comfort zone with the world. He is great with other animals, it is just the human race that he is afraid of (with just cause for what has been done to him in the past).
My long haired boy is truly my Valentine (yes, his birthday is Feb 14). He is a beautiful, long hair, red brindle boy. You can see why he was used for breeding purposes at the beginning of his life (by the way, he is modeling a harness purchased in support of Dachshund Rescue of Houston).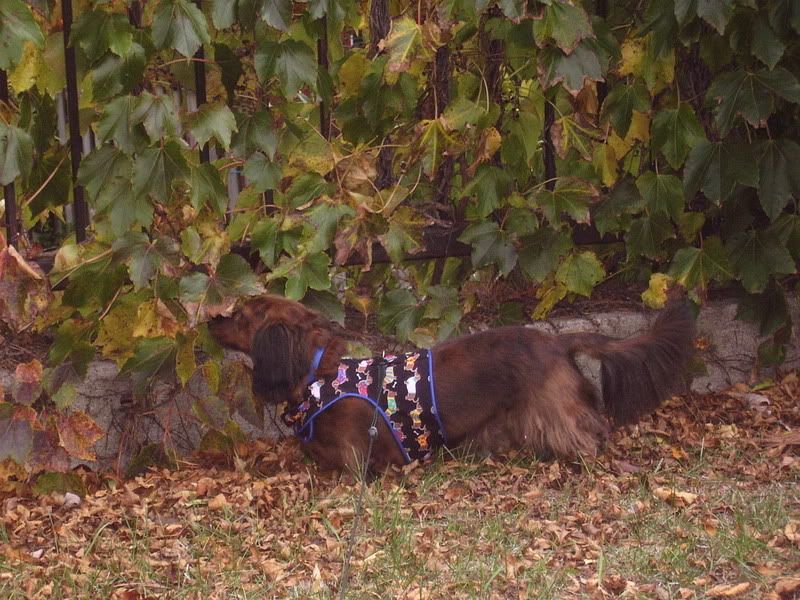 We lost our golden boy very suddenly to leukemia about 6 months after adopting Valentin. Valentin had started to overcome some of his fears, but regressed dreadfully without his large body guard. He grieved the loss of his buddy and tried to take Champ's place as our "protector".
Dachshunds are pack animals and so I began the search for another dachshund buddy for him. That is how Heidi came into our lives. He loves Heidi, his special needs "sister" who was adopted next. We moved back to my family's area and I started to foster dachshunds. Valentin bonded with our foster Pogo, which resulted in Pogo's adoption.
Their stories will be next.